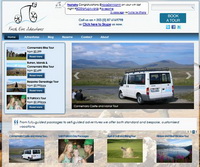 We wish to congratulate FreshEireAdventures with their new Joomla 3.x site.
In addition to the migration from Joomla 2.5.x we also removed the K2 component and reconfigured the site so that most content and modules can be easily updated from the Joomla frontend.
We also added responsive webdesign so as to improve the visibility on mobile phones and other mobile devices.
We finally added som extra security to the site before it went live.
Oh, we also moved the site over to our servers in the process and reconfigured the email system so that all email addresses now are accessed through gmail as a host.